Trail Tire Auto Centers / Edmonton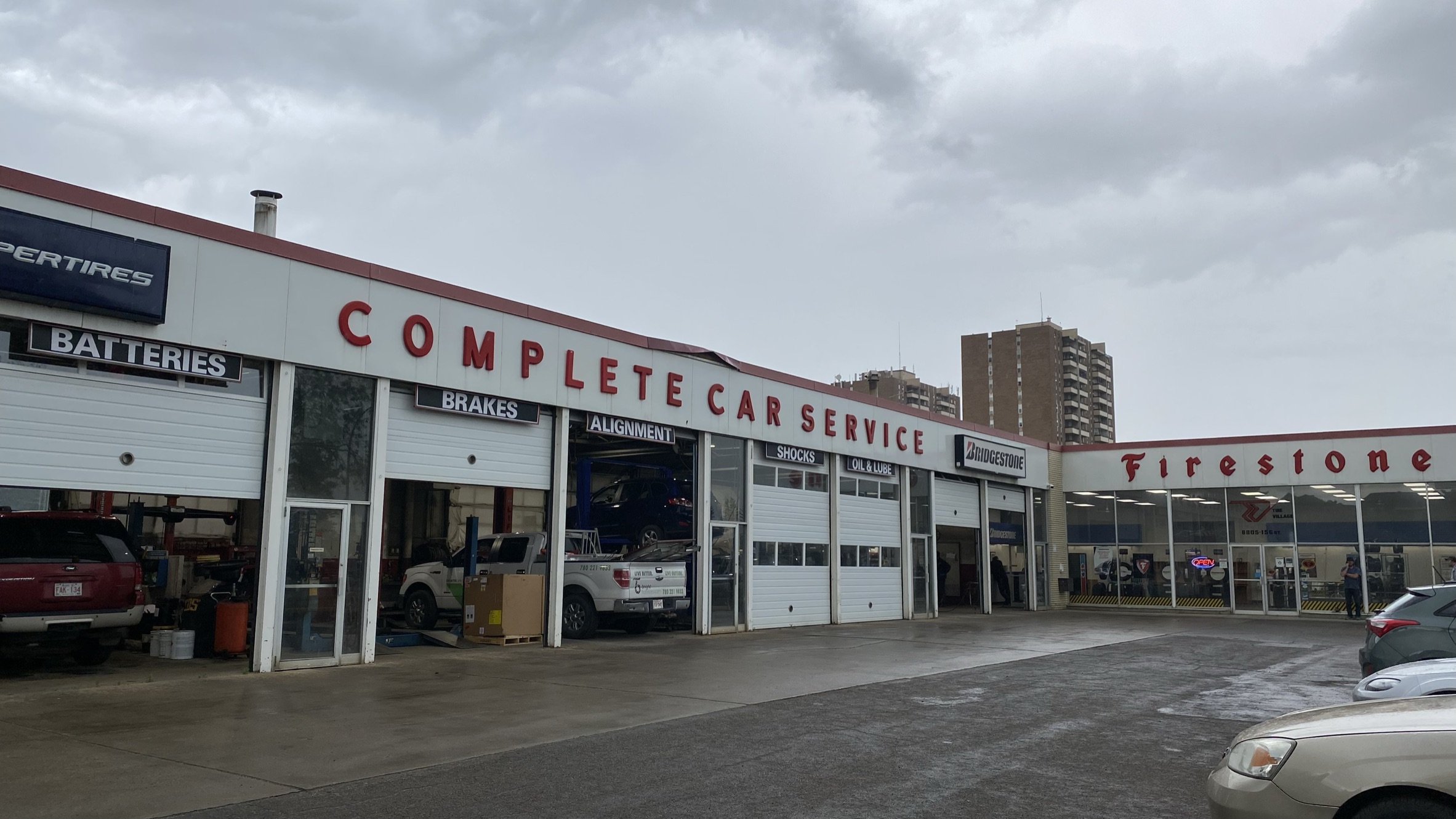 Trail Tire Auto Centers / Edmonton
8805 156th Street NW,
Edmonton, AB T5R 1Y5
shop hours
Monday - Friday 8am–5:pm
Closed Weekends & Holidays
Branch Manager
Neal Shymko
SHOP NOTES
Commercial Tire - Sales and Service
Full-Service Mechanical Auto Repair Shop
Passenger Tire - Sales and Service
Light Truck Tire - Sales and Service
Specializing in Maintenance and Diagnostics
Government Motor Vehicle Inspection Certified
Trail Tire Auto Centers Edmonton - Meadowlark

Our Sherwood Park and Meadowlark locations joined forces with the Trail Tire group back in 2006. These locally owned and operated stores have been servicing the Edmonton area since 1978.

Providing not only tire service but full mechanical services and repair. Everything from custom wheels, brakes, air conditioning service, steering and suspension, electrical diagnosis and more. Our licensed service techs have the experience and training to get it done the right way and at the right price for you.

Our tire line up includes offerings from more than 35 different manufacturers. Lawn and garden, passenger vehicle, performance and light truck tires are all available in a wide array of options. We also offer seasonal tire storage to eliminate the clutter for you. Give us a call, an email or pop by today. We are here for you and ready to get the job done right!

Located on busy Kingsway Ave in Edmonton, AB and just north of downtown Edmonton. This location serves the communities of Prince Rupert, Inglewood, Prince Charles, Blatchford, Westwood, North Central Edmonton, Westmount, Queen Mary Park, Delton, and Parkdale.

We can help you and your family or business with your everyday vehicle needs including Tires, Wheels, Oil Changes, Brake Systems, Alignments, Tire Storage, Transmissions, Inspections & Batteries. With over 1,000 positive Google Reviews in Edmonton Trail Tire Auto Centers continues to be a great place to take your vehicle. Serving the community for nearly 50 years

We carry the following major tire brands, Bridgestone, Firestone, Michelin, Cooper Tires, BF Goodrich, Toyo Tires, GT Radial, Radar Tires, Falken Tires, Yokohama, Dyck Cepek, and Mickey Thompson.

Buying Tires from the Tire Experts

Trail Tire Auto Centers can help you determine which tires are right for you, and we can help you get the best price possible. Buying tires shouldn't ever be about what is cheapest or the latest tire technology. Bring your car or truck to Trail Tire Auto Centers. We'll take the time to understand your driving habits and your vehicle. Then we can recommend the best possible tire to keep you safe both on and Off-Road. Come by the shop; we love to talk tires with you!

Give Trail Tire Auto Centers a call today to book an appointment.
Trail Tire Auto Centers / Edmonton
8805 156th Street NW,
Edmonton, AB T5R 1Y5
shop hours
Monday - Friday 8am–5:pm
Closed Weekends & Holidays
Branch Manager
Neal Shymko
SHOP NOTES
Commercial Tire - Sales and Service
Full-Service Mechanical Auto Repair Shop
Passenger Tire - Sales and Service
Light Truck Tire - Sales and Service
Specializing in Maintenance and Diagnostics
Government Motor Vehicle Inspection Certified
Spring & Winter Tire Change Overs
Whatever winter has in-store for you, Trail Tire Auto Centers can ensure your vehicle is ready for all the winter driving conditions you will encounter. Ask about our Winter Driving Service.


Winter Tires Check: ensuring your winter tires are in good condition.
Cooling System Check: test your antifreeze level and inspect your engine hoses and belts to make sure your car won't freeze up this winter.
Electrical System Check: Your car's battery produces less current at low temperatures, so it must work harder to start your car during cold weather. We can test your battery to determine how it will function under load.
Call Trail Tire Auto Centers today to book an appointment. We'll get your vehicle in shape for winter and summer driving. Let's get your summer tires off and put your winter tires on.


Once the temp is below 7°C, your winter tires will provide better grip and more control of your vehicle.
Winter tires have rubber compounds formulated to stay soft and pliable for better traction in cold weather.
You will need "mountain snowflake tires" to drive the mountain passes in BC from October 1 to March 31 – Although winter tires are not mandatory by law in Alberta, driving with a 3 peak snowflake tire is best for safety and peace of mind !
Give Trail Tire Auto Centers a call today to book an appointment.
amenities
WIFI
After Hours Key Drop
Credit Cards Accepted
services
Aftermarket Wheels
Full-Service Auto Repair
TPMS Service
Advanced Diagnostics
Factory Scheduled Maintenance
Oil Change
Alignments
Scheduled Engine Maintenance
Automotive Brakes
Steering
Suspension
Struts
Shocks
Automotive Diagnostics
Auto Electrical Testing
Battery
Alternator
Exhaust
Muffler
Out of Province Inspections